Black Pearl Cosmetics Philippines' Mud Mask Works Like Magic!
Source: Sheetal
I am a fan of getting facials. There's something about it that's so relaxing, I wish I could do it on a daily basis. I also love how my skin feels after a facial session. It feels smooth and supple.
I usually go for a facial every other week or at least once a month, when my schedule gets awfully busy. Getting facials is my only skin care spree. At home, I follow a simple skin care regimen. At night, I wash my face using a soap-free cleanser. I prefer to use this type of cleanser because it doesn't leave a tight, egg white mask kind of feeling after rinsing. I do nothing else with my face after that and sleep with a clean, washed face.
In the morning, I follow the same night routine but this time, I put on a light day cream, use a cheek and lip tint and that's it. I like quick beauty regimens, especially with a busy schedule. I need to get going. And I need to get going fast.
And then there was this time that led to my discovery of a facial mask that spas and other skin care centers use. I was on vacation then and couldn't find the time to look up a facial care center near my hotel for my usual facial session. The in-house spa is a bit pricey, so I opted to skip the session.
So I started to look up home facial tips and how-to's one evening because I wanted to give my skin some pampering. I felt like all the walking we did exposed my skin to a lot of sun and dust, too. And this is when I discovered Black Pearl Royalty Prestige G-Mask Gravity Black Mud Mask when I purchased it from Shopee's Black Pearl Cosmetics Philippines site.
First Impressions
Black Pearl Cosmetics Royalty Prestige G-Mask Gravity Black Mud Mask takes home facial care to the next level. You get that luxurious treatment with just a few steps..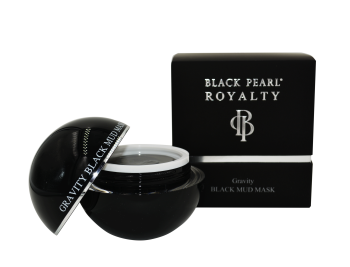 And I know it's got quite a long name, so to make it easy, let's call it G-Mask, so it's easier for us to talk about it here.
Now, I would like to give you a bit of an idea about the kind of facial care I get at my usual place. I like my facial simple. First step is washing the face. Always start with a clean face. Next is the steaming to loosen the pores for easier cleaning. After that comes the pore cleaning, where the gunk under the skin gets removed. And finally, applying topical creams to protect the skin. And there's a bit of facial massage, too. It's actually what makes the whole entire experience very relaxing.
Other than the usual facial treatment, I get a diamond peel every 6 months. Some say the interval is too far apart but it works just right for me. I like this routine and I like going to the same place. But now that I have kids and a small business to manage on a daily basis (no weekends off here), my schedule can get busy. I don't get to meet my facial fairy as often as I used to.
Enter the G-Mask. After reading a couple of product reviews, I liked it already. It contains Dead Sea minerals, natural oils, seaweed extract, and black pearl powder. I remember the time we had the chance to see and experience the Dead Sea. The guide told us all about the natural benefits and healing properties of the Dead Sea, and why it's so unique. They let us rub some of the mud on our skin, like a little spa treatment from Mother Nature, which is quite an experience. Reading about the G-Mask brought that memory back. I will never forget how my skin felt like after basking in the skin healing properties of Dead Sea minerals. It was exquisite!
And to experience that again with the G-Mask? I'm sold!
But to be sure, I looked up demos showing product application, so I can gauge its ease of use. Luckily, I found a spa review online and saw how to apply and remove it.
The product comes with a black magnetic nugget, which you wrap with a tissue and use to remove the mask. I'll tell you more about this magic later.
After seeing how it's done and how it works, I decided to get myself one and fortunately, I can order it online. I had it delivered to a friend whom I would be meeting the following week. She too got excited about my discovery that she ordered one for herself! Thought we could have a big girl's pajama party right in my hotel room, while the husbands go out for a drink. We've got it all figured out, yes? *wink*
The BP Black Mud Mask Pajama Party
It's party night, finally! I get to see my friend whom I haven't seen in years and the BP Black Mud Mask I've been waiting for. We got down to business quick.
The first thing I noticed was how elegant the packaging is. It came in a nice black box, and inside the box are my new friends: the mud mask and the black magnetic nugget. There's an instruction leaflet, too and we read that too, of course.
We're so excited when we opened the bottle, like excited little old ladies at Bingo Night. Yes, we are pushing 40s.
So we went to wash our face and removed any traces of make up, and then we put the G-Mask on. We were careful to take only the amount we need to cover the entire face. We applied the mask in a gentle upward motion. Starting from the chin to the forehead, avoiding the area around the eyes. I thought the mud mask was going to feel heavy on the skin because of its consistency. But it actually felt light. And it felt nicer than the other mud masks I've tried.
We let it stay on as prescribed and once it was dry, we got ready to take it off. We took the black magnetic nugget, wrapped it with tissue, and started removing the mask with it. In a linear motion, we swiped the magnet over our face, without letting it touch our skin. It was exciting to see how it attracts the mask off the skin. I can actually feel it lifting off my skin.
We were giggling through the whole process because it was like pure magic! We thought this product's out of this world amazing!
After removing the mask, we wiped our faces with a damp washcloth for a final clean up and voila! Fresh, glowing skin in a matter of minutes!
Source: Black Pearl Cosmetics
The Black Mud Mask Pajama After Party
BP Black Mud Mask is a product like no other! I love that it works for all skin types and that it has a lot of natural ingredients in it. It's easy to use, and you don't need a lot of product for each application. I have been using mine every week since I returned from vacation. After 4 months of weekly use, the bottle is still more than half full.
Finally, I can indulge myself in facial skin pampering at the comfort of my own home. I use the mud mask more often now than going out for a facial treatment. Saves me a lot of time and energy, too.
Black Pearl Royalty Prestige G-Mask Gravity Black Mud Mask is one amazing product! This is by far, the best skin care product I ever got for myself and I am super satisfied with the results!